Whether you're having a personal sesh, enjoying the company of a few friends, or throwing a huge party, Kabunky has a preroll for each occasion!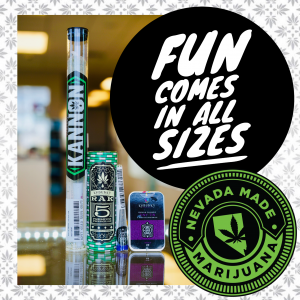 Prerolls! Who doesn't love the convenience and simplicity they offer? They take all of the guesswork out of using cannabis. This is one of the main reasons prerolls have become so popular. But there's a lot more to love about prerolls than their convenience.
With amazing strain and size options, Kabunky gives you everything you could want from a preroll! But before we get into that, let's talk about what goes into a Kabunky preroll.
Here at Kabunky, we only pack our prerolls with 100% fresh-ground, full-flowers. We never use trim or shake in our prerolls, which can create a harsh smoking experience as well as a lackluster euphoria. That's not good for you or for us, which is why we only use all-flower when producing our Kabunky prerolls.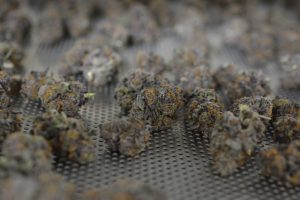 Pictured: Kabunky #9 – Indica
All Kabunky prerolls are packed using Kabunky flower only. These are our flowers. We grow them and we're very proud of them. Our passionate and knowledgeable cultivation staff grows, cures, and processes these potent offerings, and we know you're going to love them!
With seven Kabunky strains to choose from, there's something for everyone:
#9 – Indica

Laughing Laughlin – Sativa

Orange Zkittlez – Hybrid

OG Kush – Hybrid

Blue Dream – Sativa Hybrid

Sugar Cookies – Hybrid

Fire OG – Indica
Now that you know what's in a Kabunky preroll, let's take a look at the full line of size options.
Kabunky Tiny Tins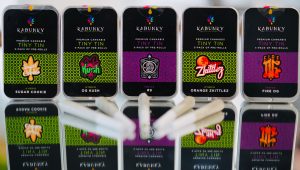 Pictured: Kabunky Tiny Tins
Our newest preroll offering, Kabunky Tiny Tins are single-serving and ultra-portable. You get five, half-gram prerolls in a convenient carrying tin. 
You're not sacrificing quality for convenience. Small but mighty, these little prerolls pack a punch. Perfect for a solo sesh, or a quick puff with a friend. We tested different sizes, with anything less being not enough to share, and anything more being too much for single use. We think the half-gram preroll is just about perfect!
Kabunky One-Gram Prerolls
Pictured: Kabunky One-Gram Preroll – #9
When you need more than a half-gram preroll, check out our Kabunky One-Gram prerolls. These prerolls are double the fun of our half-gram minis, making them ideal for a couple of people to enjoy together. 
Packaged in a scentproof and airtight tube, these are the perfect single-use preroll. 
The full-gram preroll offers more flower for a larger group to enjoy. Having enough to go around without anyone feeling left out is important. That's why we recommend grabbing a one-gram Kabunky preroll for your next small sesh. Your friends will thank you!
Kabunky RAK – Five, One-Gram Prerolls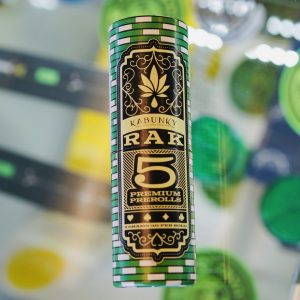 Pictured: Kabunky RAK
When you want to stock up on Kabunky prerolls, the RAK is the perfect choice. You get five, one-gram prerolls, stylishly presented in a collectible tube. Plus, each preroll is packaged individually in its own scentproof and airtight tube. Sounds pretty great, huh?
But wait, there's more!
Every Kabunky RAK comes with a $5 Kabunky chip that can be redeemed just like cash at either of our dispensary locations. That's a $5 savings built into each RAK! 
The RAK is ideal for social occasions with larger groups of people, when a half gram or even a full gram preroll just isn't enough. Having five prerolls at your disposal ensures that everyone can enjoy the festivities. We guarantee you'll be the most popular person at the party when you show up with a Kabunky RAK!
Kabunky KANNON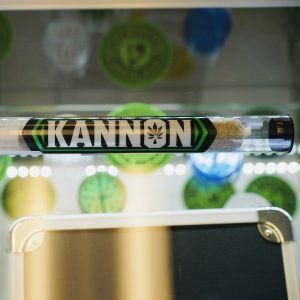 Pictured: Kabunky KANNON
This preroll isn't for the faint of heart! This is 14 grams of our fine flowers, packed into a King Size Futurola cone. A full half ounce of flower makes the Kabunky KANNON one of the most formidable prerolls on the market. Seriously, this thing is massive! 
Designed for the ultimate party sesh, the KANNON will blow you away. Gather a bunch of friends for this one, because this thing burns forever. Perfect for large gatherings and celebrating, the KANNON is as much status symbol as anything. Looking for something to give your social media page a boost? Post your KANNON sesh! #kabunkykannon
When you're ready to really party, pick up a Kabunky KANNON!
Conclusion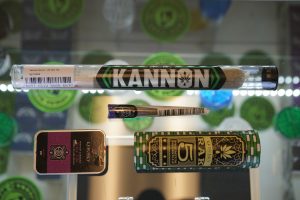 Pictured: Full Kabunky Preroll Line
As you can see, Kabunky has a preroll for every person and situation. Whether you're looking for a convenient personal option or something to satisfy a crowd, Kabunky has you covered.
Remember to choose the right preroll for the right occasion:
Tiny Tins – Five, half-gram prerolls in a convenient, portable tin

Kabunky Prerolls – One-gram, full-flower preroll in a scentproof, protective tube

Kabunky RAK – Five individually packaged one-gram prerolls in collectible tube with $5 Kabunky chip

Kabunky KANNON – 14 gram, king-size preroll